BBC Movers and Packers services offer Moving and storage in Dubai, UAE all types of furniture, household items, office relocation., villa movers, and all other local and international packing services. 
Household items included all kitchen items with oven, glasses fragile items, fridge, and washing machine. Also other all rooms items, like a fan, AC, computers, LCD, furniture, bed, chairs, tables, wardrobes, doors, and any items which you want to move we will take care from a to z.
Shifting or relocation from Dubai to inside all cities in Dubai. Room shifting, flat shifting, with dismantling packing., loading moving, unloading, and fixing again same as its decoration. Our professional carpenters and packers work with care and are focused on completing the job.  
How we deal with the customer for Storage space ?
For Storage space, we have a special contract for safe things and also safe security for items. That contract depends on short-term storage or long-term storage services. After confirmation prices and our team will mange to bring in warehouse with packing. 
Which type of packing material use for fragile items?
The best process for packing glasses items like LCD, TV, or any other glass. BBC Packers depart using thermocol, and bubble wrapping with extra air bubbles. Thermocol have different shapes like small balls, sheets, and rectangles. 
Storage and warehousing are available for all local and commercial. In the commercial you can store your product and distribute it to your customer, also you can store any machines, tools, spare parts, and any other things.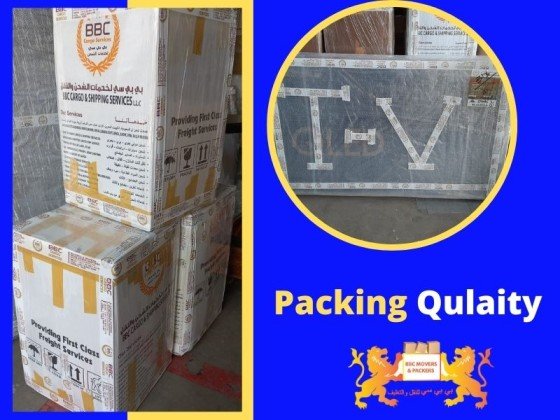 Packing and Storage services
No. 1 packing company in UAE for professional packing and storage services of any type of items like fragile items same as TV, LCD, and fridge.
In packing material, we use carton rolls, thermocol balls, thermocol sheets, corrugated rolls, carton boxes, stretch film, printed taps, and clear taps as well.
Our staff is always ready to pack any items commercial, company, or home office items.
Our charges base on items if fragile items we will charge by inches if general items for packing will charge on Cubic Meter. 
Yes, Packing charges is different and dismantle charges is differing also we have one package with dismantle, packing, moving and storage. 
Yes our services also from Dubai to Abu Dhabi, and also from Abu Dhabi to Dubai, Sharjah to Abu Dhabi, Al Ain to Ajman Movers.