Furniture Movers in Abu Dhabi Relocating to a new home is an incredible journey! However, given the number of tasks that must be done, it can be a little worrisome. 
Movers and Packers Abu Dhabi take care of all your valuable items and make the relocation process as simple as possible for you. We are recognized as one of the top Movers and Packers service providers in Abu Dhabi. 
We have a team of experienced and trained staff who have experience in moving, packing, shifting, and all kinds of relocation services you may need. 
Our staff members are well-trained with updated technology and they are very efficient. They can load and unload all kinds of furniture, appliances, boxes, crates, etc. We offer services to local shifting as well as international moving at reasonable rates.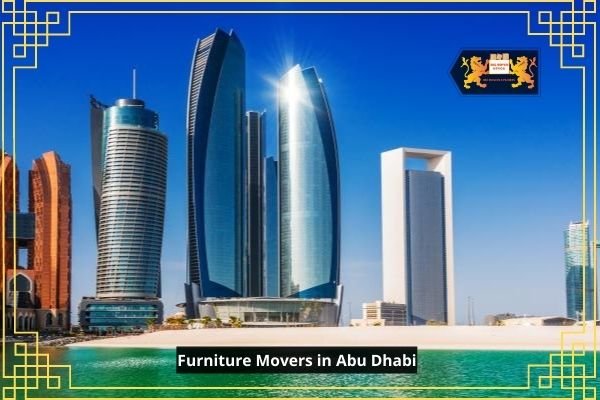 Movers and Packers Abu Dhabi is a complete solution for your home shifting, office relocation, vehicle transportation, storage & warehouse services, etc. We offer the best quality of services you can get in the UAE.
The basic goals of our company are to provide professional, efficient, and affordable services to the customers. We assure our customers that we will undertake all aspects of the move with utmost care and professionalism. All the goods are handled with the best possible care by our professionally trained staff.
We offer expert crating services for your valuable items. 

We provide first-rate packing and unpacking services.

We provide low-cost moving services.

We have short and long-term storage facilities.

Our goals are to provide the best quality service at the most affordable price.
We are the finest movers and packers since we have extensive expertise in relocating houses around the UAE. Some of the top practices we provide are as follows:
High-Quality Tools Ensure the Safety of Furniture and Belongings
For furniture dismantling, we use custom-made tools. Our knowledgeable loading and unloading team is well-versed in innovative methods to ensure the safety of the commodities, ensuring that they are transported in their original forms and without damage.
Preparation before Loading
Based on how large or tiny your relocation is, as well as what you're about to move to. We assess the distance and complexity of the furniture since we pack each piece of furniture by its specifications. As a result, we use dust and moisture-proof packaging materials.
Everything will be handled with care by our experienced staff. We take great precautions to guarantee that each piece of large furniture is disassembled and packaged with its pieces before reassembling everything for you.
Cheap Movers and Packers in Abu Dhabi
We understand the stress of relocating, and we know how expensive it is to locate a great place to live. That is why our primary objective is to provide low-cost moving services so you can spend more money on other items to adorn your new house. This is why you can entrust us with your most sensitive objects, whether they are brand new piano or generation-old classic pieces of furniture.
Best Movers and Packers in Abu Dhabi
We have years of expertise in the relocation industry and can help you whether you are relocating your house or workplace. We provide a wide range of Movers in Abu Dhabi services with outstanding supervision to meet the demands of everyone, from individuals to corporations and companies throughout the UAE.
Our well-trained relocation staff provides the most reliable and practical moving services, allowing you to relocate without concern. We have experience with current packing techniques, furniture installation, and removal services in addition to moving services.
Movers and Packers in Abu Dhabi Mall
Our professional experts at Movers and Packers in Abu Dhabi Mall make sure that your goods will be packed and moved to their destination safely and securely. All our professionals are trained to handle your goods with care and also are experienced enough to pack every type of goods. We have a well-equipped storage facility where all your goods will be safely stored until you take them back. The team of Movers and Packers in Abu Dhabi Mall is well aware of the requirements of our customers hence we work efficiently to meet their expectations.
Furniture Movers and Packers in Abu Dhabi
Delivering a pizza or a basket of popcorn to your companions is a simple task, but moving furniture is a stressful and difficult effort. Moving furniture is difficult since it is large, bulky, and heavy to handle. Another problem that comes to mind is furniture damaged during the relocation process. Professional Furniture Movers and Packers in Abu Dhabi work hard to keep your belongings safe and secure while relocating. For ultimate protection, our Furniture Movers and Packers wrap your furniture with additional cushioning and superior packaging materials. We are the most trustable furniture movers in Abu Dhabi.
Villa Movers and Packers in Abu Dhabi
Relocating a small house is simple, but moving a large house, such as a five-bedroom villa, is a difficult effort for moving firms and you. Villa relocation involves a significant amount of time, effort, and money. Because it is a large house with a lot of furnishings, everything might go wrong if the move is not carefully planned. Our professional Villa Movers and Packers in Abu Dhabi are experienced in handling furniture, electronics, appliances, and other home and office-related items with utmost care.
House Movers and Packers in Abu Dhabi
We understand how very much you love your house and how much money you spend on your precious furnishings. We promise to relocate your house in a safe and stress-free manner. Our professional house moving services are of the greatest quality, are reasonably priced, and, most importantly, are safe and secure. Your belongings, from your sofas to your microwave and oven, will be relocated in a secure and timely manner.
Apartment Movers in Abu Dhabi
Apartment Movers in Abu Dhabi is the leading movers and packers company. We have been in the industry for a long time and have provided excellent services to our clients. We have a dedicated team of professionally trained staff members who are highly experienced and have the expertise to handle all kinds of relocation requirements.
Office Relocation Service in Abu Dhabi
Relocation of offices is not a simple task. It requires careful planning and execution as well as extensive logistic support. This is why you need to hire an expert Office Relocation Service in Abu Dhabi. We handle all the tasks involved in relocating your offices. We help by taking care of all aspects of an office relocation such as packing, storage, transportation, unpacking and setting up of office furniture, etc. We aim to make sure that your office relocation is a successful experience for you and your employees. Our goal is to provide you with the absolute best possible services, taking every measure available to ensure that your move is as smooth as possible.
Automotive Movers in Abu Dhabi
If you are looking for the best service in moving your automobile from one place to another, we are here to help you. Abu Dhabi is a modern city and there is no dearth of companies offering such services. But very few companies can offer you the best service at the most affordable price. Our company prides itself on being one of the rare few companies in this field that not only offers the best services but also provides these at an affordable price. Our professional team will take care of all your car needs right from packing them up safely to unloading them with utmost care at your destination.
Storage Facilities in Abu Dhabi
Movers and Packers in Abu Dhabi provide services for short and long-term storage needs. This comprises both residential and commercial customers, such as auto dealerships, shipping firms, manufacturing companies, construction companies, and many more. You can store anything from a few boxes and pieces of furniture in a self-storage facility to large amounts of commercial or industrial goods in our large-size warehouse.
Expert Movers and Packers in Abu Dhabi
We have the solution for every type of move, whether it is a local move or an international relocation, we can help you with your home or office moving project. We are a trustworthy company with the experience and resources to make any move easy for you. Whatever the size of your load, we have the expertise and equipment to deliver it anywhere in the UAE. Your goods will be handled with care at all times with us as we respect the client's privacy. Our goal is to keep our customers satisfied at every step of the moving process because we know how stressful moving can be!
Packing and Unpacking Service in Abu Dhabi
We offer complete packing and unpacking services with full insurance coverage for your goods to ensure their safety during transit. Our employees have required certificates in this regard. Our company offer various packing supplies such as cartons, bubble wrap paper, stretch film, tape gun and shrink wrap machine, etc. at very reasonable rates.
Loading and Unloading Service in Abu Dhabi
We are the best logistic company that offers services of loading, unloading, and transportation from one place to another. We provide these services for more than a decade now. We have a great number of customers all over the UAE. They trust us for our honesty, reliability, and integrity.
Our truck drivers are trained professionally to give our customers complete satisfaction about time and money. We take care of our employees' health and safety so that they can work comfortably without any kind of hazard or risk of accidents.