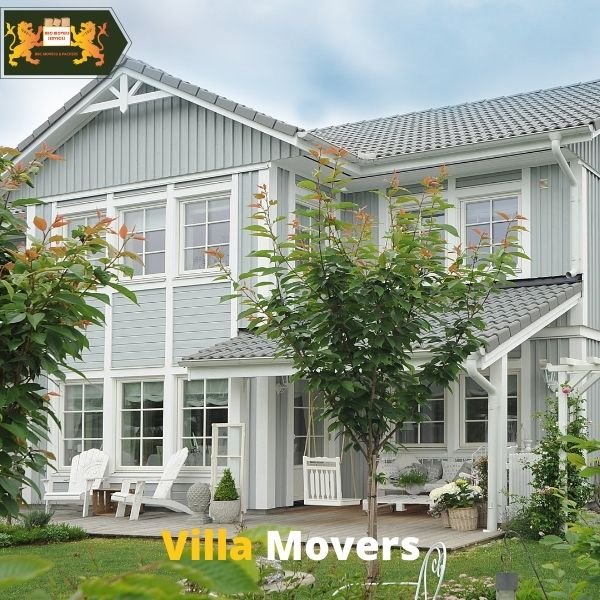 Professional Villa Movers Services in Dubai is a company that provides moving services. Our company has been in the industry for years now and we have helped families and businesses relocate several times successfully. 
We would be glad to assist you with your next move. We provide full-service or part-service relocations, from packing and loading to unpacking and settling in. 
We also offer other moving services for local moves, long-distance moves, commercial moves, and corporate relocation services. 
We are fully insured and bonded, so you can rest assured that your belongings will get to their destination safely. We can move any size villa and do the packing, loading, and unloading for you.
 We provide the following services:
Moving of villa, apartments, or offices complete with all belongings

Free estimates

Free boxes if needed, our customers love how strong they are!

Packing of fragile items or anything else that needs special wrapping

Loading and unloading your belongings

Disassembly and assembly of furniture (beds, cribs, dressers, etc.)

We also have a local storage facility where we can store your belongings.
We pride ourselves on our customer service from start to finish of your move. All of our employees are friendly, courteous, and trustworthy individuals who have been trained to provide exemplary customer service from the start of your move until it's completed. Our staff is always willing to do whatever it takes to make moving as stress-free and easy as possible for you! 
Our strong collaboration with our clients enables us to ensure their complete happiness throughout the transfer process. In Dubai, we have a large number of delighted consumers. We do not outsource anything and instead oversee the entire move with our professional and trained team. We are a full-service moving company in Dubai.
Services we offer:
The Villa Movers Service in Dubai deals with all types of your goods like furniture, home appliances, etc. We have an expert team that packs all your items carefully and loads them onto the truck. 
Our Villa Movers Service is a highly efficient and well-organized company that provides local and international residential moving services, local and international commercial moving services, local and international office moving services, and local and international corporate relocation services. 
Our moving services were founded on the belief that our clients' needs are of the utmost importance. Our goal is to provide each client with professional moving services that will be an extension of their moving team.
Villa Movers and Packers in Dubai
We pledge to provide you with an incredibly efficient and smooth moving service experience in a prepared, experienced, prepared, and gifted crew. 
Villa Movers Services can guarantee your settlement based on your specific needs. Our movers and packers in Dubai ensure that everything fulfills your needs and blends nicely with your creative ideas. 
Our strong collaboration with our clients enables us to maintain remarkable satisfaction throughout the whole migration engagement.
Cheap Movers in Dubai
Service for Villa Movers Dubai provides you with a professional house shifting service at a good price. All household items, from light to heavy.
We negotiate expertly in transporting a broad variety of house items, large or little, from one location to the other. Our low rates and guaranteed quality are unrivaled. 
We are here to make your relocation as simple and stress-free as possible. Our movers are qualified and experienced to make your relocation go as smoothly as possible.
Villa Moving Services in Dubai, Abu Dhabi, Sharjah, etc
When you contact Villa Movers Service Dubai, your tension is truly lifted. We take satisfaction in declaring that once you confide in us, we will relieve you of all your relocation concerns. 
We are always available to assist you with relocating your villa, no matter what time of day it is. With us, you will have a stress-free experience moving your property to a new location. We are effective at what we do. We will transfer your villa while causing no damage. 
These are the cities in which we operate;
Dubai

Abu Dhabi

Sharjah

Ajman

Umm al-Quwain

Al-Ain

Ras Al Khaimah

Fujairah

And More…
Furniture Movers in Dubai
Our movers have years of experience in furniture moving services throughout the UAE. No matter if you're moving from Jumeirah to Umm al Quwain or Dubai to Sharjah. 
We are always there for you. We take care of our customers by offering them excellent service, and quick responses to their queries, and our movers are polite, friendly, and efficient at what they do. We understand the significance of your belongings and will treat them with care and respect. 
Our expert team can pack your furniture professionally ensuring that nothing is damaged during the move. We are known for our promptness, efficiency, and reliability which is why many people prefer to hire us for their shifting needs.
Storage Services in Dubai 
Self-Storage Services in Dubai imply storing your stuff with Villa Movers Services in Dubai while they are being relocated or in secure storage. Storage Dubai constantly keeps in mind that we are the finest warehouse storage in Dubai, UAE based on your storage needs. 
We have a self-storage facility with 24-hour CCTV surveillance and a fire alarm, and we are a fully certified and insured relocation company in Dubai.
Professional Villa Painting Services in Dubai
Our experienced painters are constantly devoted to providing state-of-the-art painting services in Dubai, employing the most up-to-date standards and methods. 
Our attention to detail has won us an outstanding reputation, and it is this reputation that keeps clients returning and suggesting us to others. It is critical to respond to villa owners' wants and concerns in a thoughtful, timely, and honest manner. 
Our team has a casual work culture and a results-oriented, customer-satisfaction-driven workplace. Our skilled painters in Dubai have been well trained to accomplish assignments in a timely and efficient manner. At the same time, we deliver the finest possible quality to the consumer. 
We never compromise with the quality of our work or the paint ingredients we use. We are devoted to being extremely professional throughout the villa painting service procedure. We never compromise on the quality of our work or the paint ingredients we use. We are devoted to being clean and professional throughout the villa painting service procedure.
local Movers in Dubai 
Giving the best Local Movers in Dubai and all over UAE. Our all team is well trained and experienced, so we can handle any kind of problems in your home or office. We have all the latest tools and machines to solve your problem. Our technicians are always available 24/7 to give you immediate service.
Handyman Services in Dubai
Villa Movers Services also provides expert handyman services in Dubai following your move through us. Moreover, customers in Dubai required services such as TV mounting, curtain installation, picture framing, mirrors hanging on the wall, and home appliances re-connection during their move.
Packing and Unpacking by Villa Movers Services in Dubai
We offer professional packing and unpacking services, we can handle the entire process of relocating your home or business. We are a licensed, insured, bonded, and accredited company, and our services are available for both local and long-distance moves. 
We use professional and quality materials for protecting your belongings during transportation. Our movers offer quality packing materials at affordable prices! With Villa Movers Services Dubai, you save time, money, worry, and hassle of relocating!
Loading and Unloading by Villa Movers Services in Dubai
Loading and unloading is the most important thing in moving. It will take up to a week or more to move your things into the new home. We provide our customers with exceptionally dependable and cost-effective loading and unloading services. 
We utilize a methodical technique to load and unload products in containers, assuring optimum safety and reliability, propelling us to the top of the Moving and relocation services in Dubai.
Why Villa Movers Services?
As previously stated, relocating may be a highly stressful experience, especially if you opt to handle everything alone. By utilizing Villa Movers Services Dubai as your removal partner, we can alleviate the stress of the relocation and guarantee that the work is completed correctly. 
With over a decade of expertise working out of Dubai, we have the staff and resources to perform your villa relocation on time, safely, and responsibly. We not only supply specialists with the necessary expertise and experience in packing, loading, and transporting items safely and securely, but we also provide excellent trucks to convey the products to their new locations. 
A few of the reasons why we are regarded as the best villa movers and packers in Dubai are as follows:
Service Prices That Are Affordable

Staff with Knowledge and Expertise

A Wide Selection of Trucks to Meet Your Specific Requirements

Round the Clock Service Support

Reliable Moving Company in Dubai

Short and Long Term Storage Facilities

Best Villa Movers in Dubai
Villa Movers in Sharjah, Villa Movers in Abu Dubai, Villa Movers in Fujairah, Houseshifting in Ajman, house item movers in al ain, villa movers midriff, villa relocation in Jumeirah, professional movers services, #villaMovers #StorageServices