BBC Movers and Packers services offering excellent packing, dismantle, all furniture's, transportation, and again fixing as its in Mirdiff or anywhere in Dubai, Abu Dhabi, Sharajh. Mover and Packers Service in Mirdif and also storage service for household items and commercial items.
Mirdif, a bustling residential neighborhood in Dubai, has witnessed a surge in demand for professional moving and packing services, and it's no wonder why. In this fast-paced city, individuals and families are frequently relocating to seize new opportunities and embrace fresh beginnings. Amidst this dynamic landscape, Movers and Packers services have emerged as essential partners in ensuring a seamless transition. The Movers and Packers in Mirdif offer a wide array of services tailored to meet the unique needs of their diverse clientele. Whether it's a residential move to a new apartment or a commercial relocation to a different office space, these professionals bring expertise, efficiency, and reliability to the table. From carefully wrapping and securing belongings to efficient loading, transportation, and unloading, they handle it all with precision and care. Moreover, these services go beyond the physical aspects of moving. They provide peace of mind, offering insurance options and transparent pricing structures, eliminating any potential surprises along the way. In a city known for its high-paced lifestyle, the Movers and Packers in Mirdif act as pillars of support, allowing residents and businesses to transition smoothly and focus on their new chapters in this vibrant metropolis.
House Shifting Services in Mirdif are the epitome of professionalism and efficiency. When it comes to relocating your home, trust is paramount, and these services offer a reassuring level of expertise. Whether you're moving within Mirdif or to a different part of the city, these professionals have the experience and knowledge to handle the entire process seamlessly. From meticulous packing and secure loading to timely transportation and careful unloading, House Shifting Services in Mirdif prioritizes the safety of your belongings. They understand the sentimental value attached to your possessions, and their commitment to delivering them in pristine condition is unwavering. What sets these professionals apart is their attention to detail, ensuring that every item, from fragile glassware to bulky furniture, is handled with utmost care. Moreover, these services are not just about physical labor; they provide peace of mind. With their well-organized approach, you can breathe easy knowing that your move is being managed by experts who have encountered every challenge in the book. They also offer insurance options, adding an extra layer of security to your relocation experience.
Office Relocation Service in Mirdif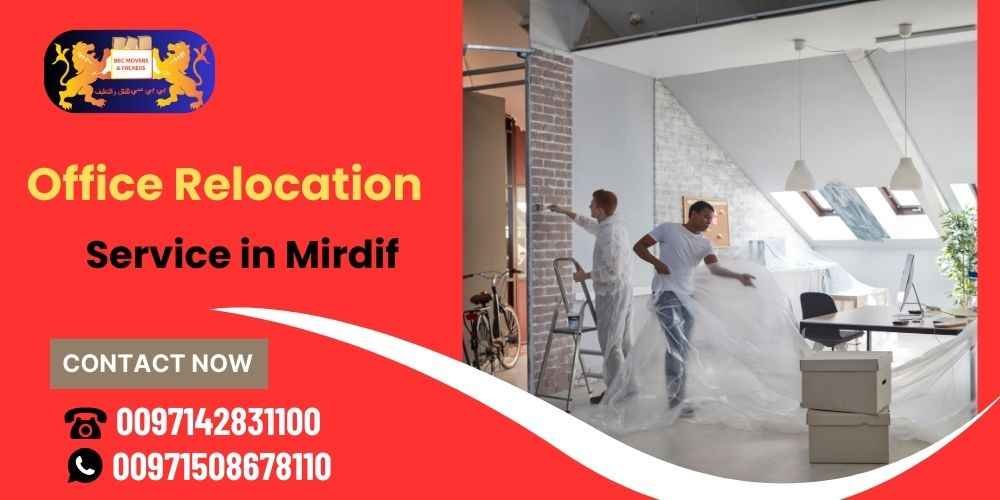 Office Relocation Service in Mirdif offers a seamless transition for businesses looking to move their operations. With years of expertise in the field, our team is dedicated to providing top-notch professional services that ensure a hassle-free relocation experience. We understand the complexities involved in moving an entire office, from packing delicate equipment to ensuring minimal downtime during the transition. Our skilled professionals meticulously plan and execute each step of the relocation process, from disassembling furniture to setting up the new workspace in Mirdif. We prioritize the safety of your valuable assets, employing specialized packing materials and techniques to protect sensitive electronics and documents. Our fleet of well-maintained vehicles is equipped to handle all sizes of office moves, ensuring that your equipment arrives at the new location intact and on time. Moreover, we work closely with our clients to create a customized relocation plan tailored to their specific needs, minimizing disruptions to their daily operations. Our Office Relocation Service in Mirdif is not just about moving furniture and equipment; it's about facilitating a smooth transition that allows your business to resume its activities promptly.
Furniture Dismantle and Fixing Services
Furniture Dismantle and Fixing Services offer an indispensable solution for those navigating the complexities of relocation or interior transformations. These professional services are the backbone of stress-free transitions, ensuring that your furniture is handled with care and precision. Whether you're moving to a new home, rearranging your office space, or simply seeking a fresh look for your living environment, these services play a pivotal role. Experienced professionals proficiently disassemble your furniture, taking into account the intricate details and materials. They carefully label and organize every component to ensure a seamless reassembly process at your new location. This meticulous approach not only safeguards the structural integrity of your furniture but also saves you time and effort. Moreover, these services extend beyond just disassembly and reassembly. They encompass furniture repair, upholstery restoration, and even customization, offering a comprehensive solution for all your furnishing needs. This versatility allows you to breathe new life into your existing pieces or adapt them to fit your evolving aesthetic preferences.
Wooden Box Packing Services in Mirdif
Wooden Box Packing Services stands as a testament to professionalism and reliability. With a commitment to safeguarding your valuable belongings, we specialize in crafting custom wooden boxes that provide the ultimate protection during transit or storage. Our team of skilled craftsmen pays meticulous attention to detail, ensuring that each box is tailor-made to fit your specific needs, whether it's for delicate antiques, artwork, or industrial equipment. We pride ourselves on using only the highest quality wood, guaranteeing durability and strength. Beyond the superior craftsmanship, our services extend to efficient packaging, secure loading, and on-time delivery, making us the preferred choice for businesses and individuals alike. With years of experience and a reputation built on trust, our Wooden Box Packing Services in Mirdif ensure that your cherished possessions arrive at their destination in pristine condition. Trust us to handle your packing needs with professionalism and care because your satisfaction is our top priority.
Villa Mover Services in Mirdif
Villa Mover Services in Mirdif epitomizes professionalism and excellence in the realm of relocation. With a dedicated team of experts who understand the intricate nuances of moving, they offer a seamless transition to those seeking to move their cherished homes. Whether it's a local or long-distance move, Villa Mover Services ensures that every aspect of the relocation process is meticulously planned and executed. What sets them apart is their unwavering commitment to customer satisfaction. They prioritize the safety of your valuable possessions, employing state-of-the-art packing materials and handling techniques to safeguard your belongings throughout the journey. Their team is not just skilled but also empathetic, understanding the emotional attachment people have with their homes, making the process as stress-free as possible. Moreover, Villa Mover Services offers a comprehensive range of services, from packing and loading to transportation and unpacking, tailored to meet your specific needs. Their fleet of modern vehicles is equipped to handle all types of household items, ensuring a smooth and timely delivery to your new residence.